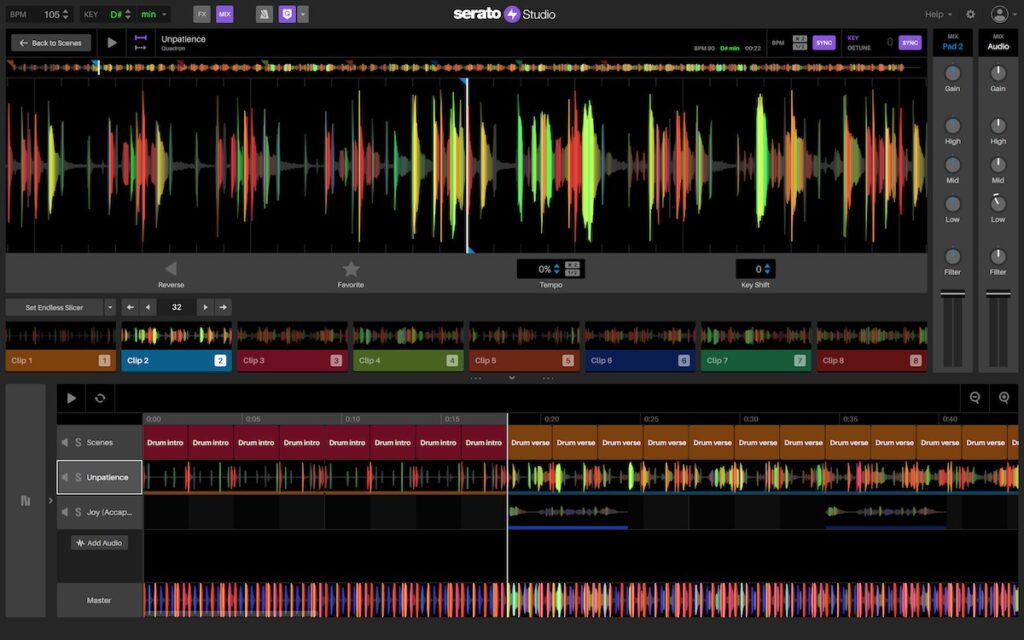 Serato Studio 2.0.6
Unlock your sound with Serato Studio, the ultimate DAW for beat making and sample-based production. Stay in your creative flow with Studio's modern, all-in-one workflow to isolate, flip, layer, and chop samples to create entirely new masterpieces.
Studio 2.0.6 is out now with default template creation and additional FX slots.
Create default template
Save a project as your default template with all your favourite plugins, instruments, samples, drum kits and app settings how you like and ready to go every time you create a new beat in Serato Studio.
Additional FX slots
We've increased the number of FX you can add to the Master and Scene Tracks, as well as the Instrument and Plugin decks.
Recent Updates:
Bug fixes
Official support for Apple Silicon
Stems algorithm update
Workflow improvements
Memory optimisations
The ability to include stem files in 'Save Project with Samples'
Serato Stems
The revolutionary new audio separation tool is now in Studio, unlocking the limitless potential of sampling. Isolate acapella, instrument, bass and drum stems with the click of a button and effortlessly experiment with them to create unique sounds. Powered by our machine-learning algorithm, Serato Stems delivers best-in-class sound quality and performance.
Serato Visualizer (beta)
Serato Visualizer (beta) is the new, free, audio-visual content tool designed to create visuals for producers on social media. Serato Visualizer can be accessed via the new Serato Studio 'Export' button on the main screen, or directly at visualizer.serato.com
Quality of Life Improvements
Maintenance and quality of life bug fixes across Serato Studio. Read the full release notes below for more information.
macOS Ventura support
Official Serato support for macOS Ventura.