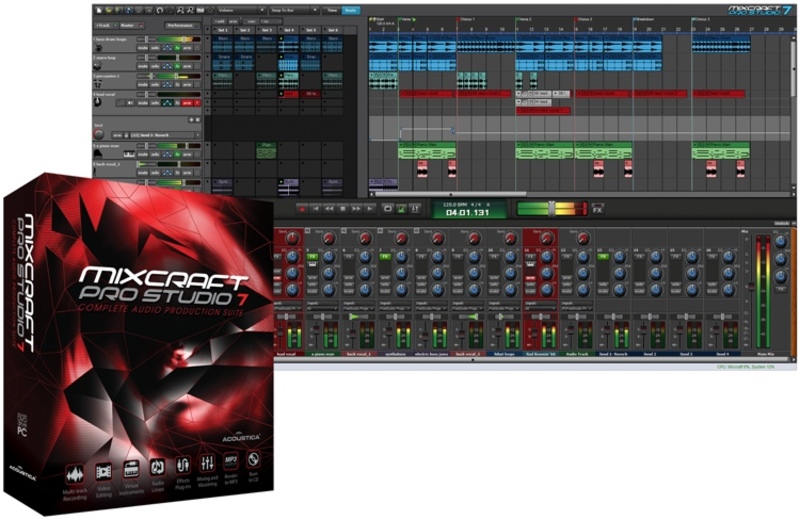 The ultimate software tool for pro-level mixing and mastering! With 5 additional virtual instruments and 27 additional effects, Mixcraft Pro Studio 7 features over $1100.00 worth of plug-ins – the complete package for "record-ready" productions with incredibly realistic instruments and superlative audio processing capabilities. For a list of all instruments and effects, view the comparison chart below.
Stunning Synths
Mixcraft Pro Studio 7 adds painstakingly modeled virtual analog and digital professional synthesizers. Memorymoon is a spot-on recreation of the Moog Memorymoog's crushing analog fatness. ME80 Version 2 is a killer model of the classic Yamaha CS80 synthesizer, now with a gorgeous new user interface and a whole new sound engine. Glass Viper takes its inspiration from classic 80s and 90s digital synths and offers unique waveform shaping for a deep and natural sense of movement.
Peerless Piano
Pianissimo is an incredibly playable and realistic virtual piano.Combining 250 MB of high quality Steinway™ Model D piano samples withadvanced physical modeling, Pianissimo recreates the warmth, response, andplayability of a real grand piano. With modeled sympathetic resonance,incidental mechanical hammer sounds, remarkable tonal control and velocityresponse, 256 voices of polyphony, and incredibly low CPU usage, PianissimoVirtual Piano lends an air of class and realism to any project.
Superior Mastering Tools
Your tracks will reach a new level of audio fidelity with an awesome arrayof mastering plug-ins. Add a professional sheen with iZotope MasteringEssentials suite. EQ to perfection with TB Parametric EQ or GSXL4070Parametric, replicating the equalizer section of one of the world's mostcoveted mixing consoles. Impart analog tape compression and punch withFerox Tape Emulator. Create bangin' dance remixes with SideKick6 Sidechaining Compressor.
Vacuum Tube Virtuosity
Who doesn't love the warm, smooth sound of tubes? Mixcraft Pro Studio 7 delivers a knockout punch of tube-modeled effects with the Pentode AudioSeries featuring the VTC-1 Vacuum Tube Compressor, TRW-1 Vacuum Tube TriodeWarmer, PSEQ-1 Vacuum Tube Passive EQ, and VBE-1 Vacuum Tube Bass Enhancer.Treblecream smoothes harsh high frequencies to perfection, while FAT+combines analog warmth, vacuum-tube distortion, and tape saturation into asingle effect for enormous-sounding tracks.
Innovative Sound Shapers
Recreate the grunge of 8-bit video games and 12-bit samplers with TimeMachineBit Crusher. Build lush, three-dimensional sonic spaces with Fusion Field'sconvolution reverb technology. Inspire sonic anarchy with Dubshox Multi-BandDistortion, featuring over 40 types of distortion and shapers. Go beyondstandard beat-synced delays with POD4500 Particle Delay's wildly unique"particles" that can be delayed, tuned up and down by octaves, filtered,and modulated.
And So Much More!Boost your bass to the max with XBass Bass Enhancer. Enhance stereo imagingwith Mid-Side Harmonic Vitaliser+. Add grunge and warmth to vocals withTwisthead VS-206 Preamp.
Languages: English, German, Japanese, Norwegian, Portuguese, Russian,Danish, French, Spanish, Dutch, Italian, Simplified Chinese andTraditional Chinese, Indonesian, Swedish, and Turkish
System Requirements
Windows XP, Windows Vista, Windows 7 (32 or 64 bit),
Windows 8 (32 or 64 bit), or Windows 10 (32 or 64 bit)
1 GB RAM (2 GB or more recommended)
1.5 GHz CPU (Dual Core or higher recommended)
Sound card, USB, or Firewire sound device
Mixcraft is a Windows based product that can be used on a
Macintosh computer running bootcamp.
[INSTALLATION]
1) Unrar
2) uSe AiR or R2R method.
3) block on your firewall