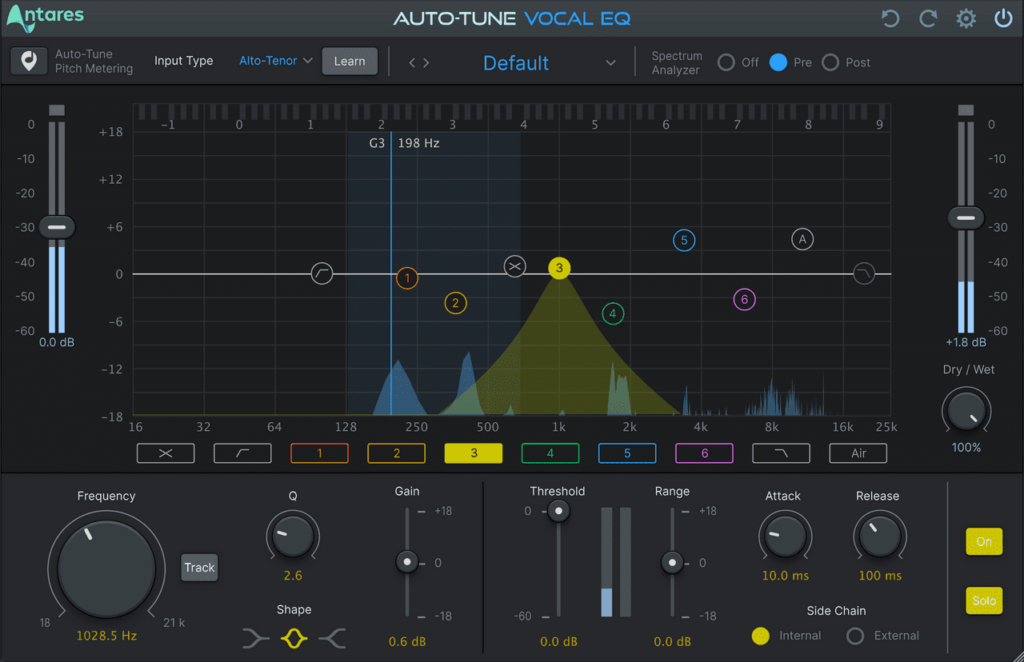 Following its release earlier this year, Antares Auto-Tune Vocal EQ sets out to provide spectral tools for vocals that haven't been available until now. Arguably, its headline feature is its pitch tracking EQ bands. Although this isn't unique to Auto-Tune Vocal EQ, what is exclusive to this product is its ability to apply a dynamic EQ band to track a moving target relative to the fundamental.
A Track button locks a band onto the fundamental pitch or a harmonic of your vocals.
The band will follow along with the fundamental pitch or harmonic in real-time on the Filter Graph.
When Track is enabled, the Frequency knob becomes the Harmonic knob. The Harmonic Knob determines the interval (in octaves above the fundamental) that a band tracks. 0 denotes no interval.

This is indispensable for those situations with some vocalists where certain notes take on an undesirable bump owing to the singer's physiology. Those mixing singers whose voices come with an unwanted 'free' mid band lift on loud notes are going to like Auto-Tune Vocal EQ dynamic tracking EQ. Watch in the video how we use Auto-Tune Vocal EQ to iron out an overly sibilant vocal whilst retaining some air. We then tame mid band spikiness on certain notes on a different line to sit the two together in a way appropriate to the genre and feel of the track.


From Antares:
Auto-Tune Vocal EQ is the world's first dynamic equalizer with built-in Auto-Tune Pitch. Tracking technology. Expand or compress available with Range and Threshold.
Featuring 6 fully customizable dynamic EQ bands, Auto-Tune Vocal EQ helps you isolate and accentuate precise frequencies while suppressing interference and resonance to carve out the right spaces in your mix.
Watch a vocalist's pitch move across the filter graph for real-time analysis, and lock an EQ band to the vocalist's pitch to focus on fundamentals.
Additional Tilt and Air Bands
 The Ultimate EQ For Vocals?
The choice of weapon in audio production for any given task is a personal one. There are so many strongly held beliefs out there that newcomers to audio engineering could be forgiven for thinking that there's no room for subjectivity. Yet most would agree that any well-operated EQ will sound better than the 'best' one in the wrong hands. Once those at the helm know what they're doing, then EQ choice comes next. We can then take the 'best' EQ as being the one that sounds the most pleasing, but the choice must also have the right features assuming a skilled pair of ears.

With everything else in place, Antares Auto-Tune Vocal EQ may well be the one to beat when it comes to vocal production. For some, being able to target a moving band with dynamic processing will be the feature that gets this versatile tool to the top of the list as a go-to vocal EQ. Powered by a name that has invested decades in pitch tracking tech, Antares Auto-Tune Vocal EQ is hard to beat as a feature-rich vocal production toolkit.