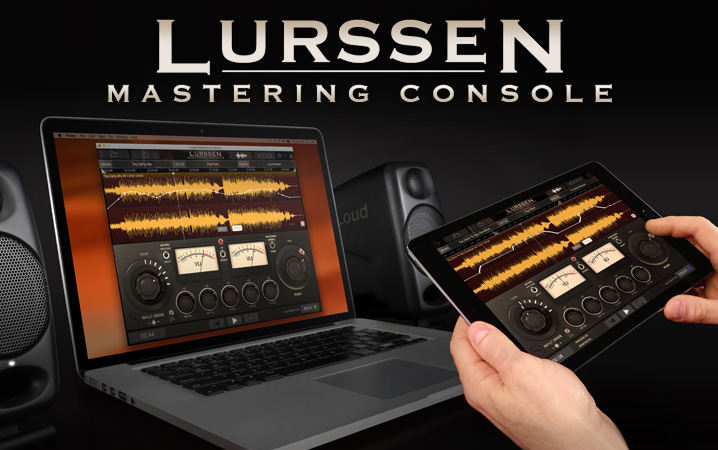 Master your music with the secret techniques, workflow and world-renowned know-how of Lurssen Mastering
Lurssen Mastering Console is a groundbreaking new mastering tool for either iPad or Mac/PC that puts a lifetime's worth of professional mastering experience at your fingertips. Created in collaboration with Mastering Engineers Gavin Lurssen and Reuben Cohen of Multi Grammy Award winning facility Lurssen Mastering in Los Angeles, it puts you at the controls in the studio with all of the secret tools, settings and techniques that have made the Lurssen sound so sought after by the world's top-tier recording artists and producers.
It faithfully recreates Lurssen's "whole is greater than the sum of its parts" philosophy of mastering. With it, you get a top of the line mastering processor chain that has been created and tweaked by Gavin and his team to reflect the settings they use in the studio while mastering hip-hop, rock, pop and more. With Lurssen Mastering Console, you finally have a way to make professional sounding masters no matter whether you're in the studio or on the go.
Features
Created in collaboration with mastering engineers Gavin Lurssen, Reuben Cohen and the team at multi-Grammy award-winning Lurssen Mastering Studios
Accurately reproduces Lurssen Mastering's unique philosophy, studio workflow and signal chain
Separate versions available for iPad and Mac/PC
Mac/PC version works as a standalone application or as a plug-in for your DAW
25 pre-made "Styles" created by Gavin Lurssen and team that reproduce the settings and gear used to master pop, hip-hop, rock and more
3 easy-to-navigate displays: A Studio view with controls, a Wave waveform view and a Chain view for individual processors
Input Drive knob
5 band EQ with fixed frequency
"PUSH" Knob to subtly enhance selected song passages via uniform EQ adjustment
Full automation of audio content adjustment
Linkable Input Drive control for stereo balance tweaks
Input/Process assignable VU metering
Stereo/Mono monitoring capability
88.2/96kHz DSP processing
Audio import from iPad music library
Changes from version 1.0:
– Added WRITE and TOUCH automation modes
– Added resizable GUI
– Added Drag & Drop file import mode
————————————————————————————-
Keygen APP OS X 2016.0 [dada]
.app to execute Keygen.exe
magnet:?xt=urn:btih:EDF3B6EC97D1D02B96F9441A3BD2F80140E19088
————————————————————————————-
Our greets go to all hard working groups.
And middle finger to the people who make money with our effort.
Support the good developer if you like it.
We would like to support you for free as long as you understand
what you are doing and what it means.