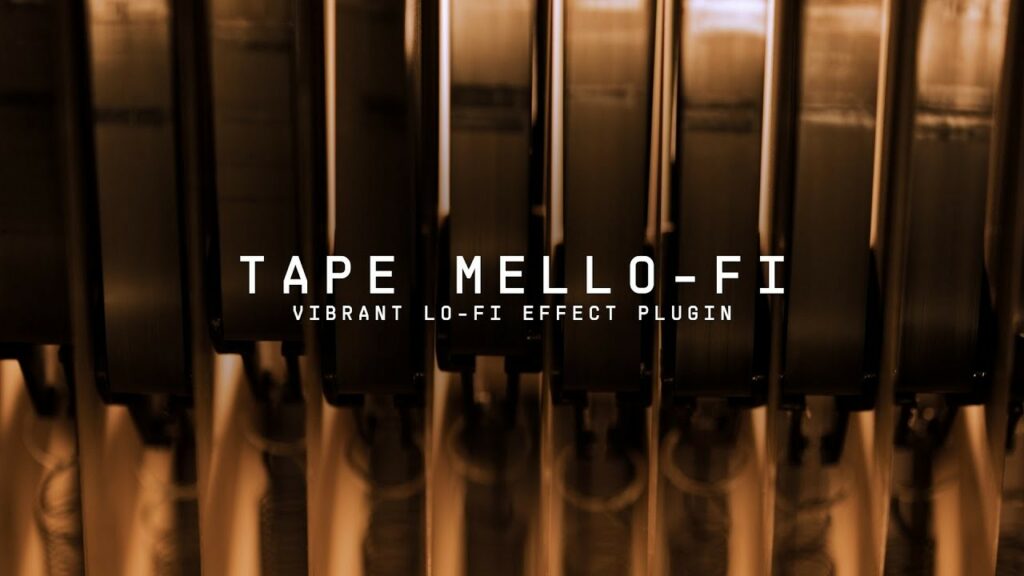 Tape MELLO-FI
Deluxe lo-fi bliss.
Tape MELLO-FI is an easy-to-use effect plugin that brings instant chill atmosphere and vintage tape-aged warmth in a few clicks. Kick back and sprinkle sublime lo-fi vibes over your drum loops, vocals, mix bus, and anything in between.
Beauty in imperfection
Take any beat, sound, or project, and instantly inject beautiful nostalgic flavor and endless vibes.
Pitchy flutters, subtle distortion, warm saturation, velvety smooth filtered sounds; Tape MELLO-FI captures the uniquely imperfect behavior of tape in perfect detail, distilled into a single plugin that you'll always come back to.
One-stop lo-fi toolkit
With a simple interface that's straight out of a classic studio, Tape MELLO-FI provides all your lo-fi needs within seconds, from subtle analog fatness to dizzy pitch flutters. Lush, fat, and crunchy, all-in-one.
Vibes for any instrument
Whether you want to make your keys & pads shine, give your vocals depth, or saturate your whole mix vintage-style, Tape MELLO-FI delivers. Use it on any track or project and let the chill commence.
Retro tape warmth
Tape MELLO-FI isn't just a one-trick lo-fi pony. Use its vintage preamp, built-in low-pass & high-pass filters, and subtle tape noise to breathe old-school life and magic studio mojo into your projects.
Reel enhancements
This vintage-flavor plugin has been tailored to modern producers' needs. From gritty distortion, to instant-response tape behavior, to the super-satisfying stereo widener, this tape machine is right up to speed.
More thanan authentic tape plugin
Tape used to be the default way to record audio, degrading with every playback in a way that's become synonymous with its sound.
Now producers, beat-makers, and sound designers actively search for that crunchy, noisy, imperfect sound to give their production character and attitude. With Tape MELLO-FI, that search is over.
Inspired by iconic tape-based instruments that truly pioneered 'that' sound, this plugin is expertly-engineered to not just sound like tape; it behaves like tape too. From the uncanny wows and flutters, to a tape wheel that you can actually click on and interact with, Tape MELLO-FI gives you the bold, unmistakably aged character of a worn out magnetic tape right in your DAW.
Tape MELLO-FI: a closer look.
This feature-packed tape emulator has plenty of sonic tricks up its sleeve. Here's a more in-depth look at its interface and the features that make it stand out from the crowd.
Tape MELLO-FI strips away any limitations and swaps them for enhancements that are essential to a modern production workflow. From its crispy built-in distortion to the larger-than-life stereo widener, your lo-fi prayers have been answered.
The preamp
Apply distortion with the Drive control, boost the signal going into the preamp section with the dedicated switch for subtle crunchy clipping, alter the shape and color of your tape's sound with Tone, and of course introduce that much-loved grain texture with the essential Noise control:
The tape stop.
The tape controls.
The filter.
The sound of the Mellotron.
The Mellotron, introduced in 1963, was a keyboard that had a tape playback mechanism under every key. Tape MELLO-FI's sound and behavior is inspired by Mellotron V, our software recreation of this legendary instrument.
The original Mellotron's tape-based functionality put orchestral sounds into the hands of keyboardists in a way that was previously unthinkable. This functionality revolutionized music as we know it, and its influence is still felt to this day.
The combination of tape reels, analog circuitry, and aging over time gave the Mellotron a distinct sound. Fluttering, grainy, compressed; these qualities have become an endearing part of the 'Tron sound. Now they're yours to use on whatever sound you want.