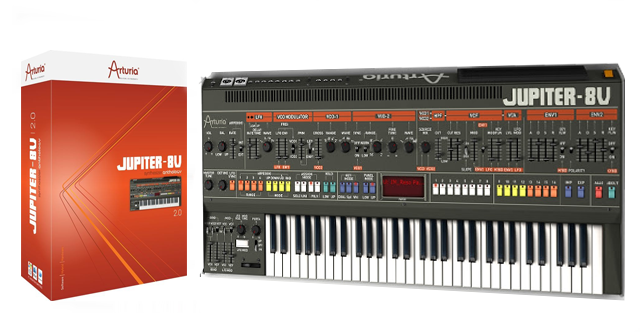 "My favorite sunth of all time is now a soft-synth thanks to the wonderful people at Arturia… This is a must have for all of us JP8 lovers. "Howard Jones (songwritter)
นำVSTi จำลองเสียงคีย์บอร์ด , ซินธิไซเซอร์ สุดเจ๋งมาฝากกันครับ


Crystal clear fatness
We could hardly wait to apply our analog modeling technology to Roland's famous Jupiter-8, which was in production from 1981 to 1984. The Jupiter-8 was a synthesizer that not only inspired a generation of musicians ranging from Prince to Howard Jones, from Depeche Mode to Moby, it was also a unique machine that offered a sharp and crystalline sound while being uniquely fat.
Innovative sounds
With Jupiter-8V Arturia brings back this magic while adding a new generation of features: the integration of analog effects within the synthesis line allows for drastic modifications of the original sound; with Galaxy, a graphical tool made to program three LFOs at the same time, you get a unique and innovative source of modulation; and with the sequencer you can create new melodic lines extremely easily.
Modern features
Thanks to TAE®, Arturia's proprietary technology for emulating analog circuits, Jupiter-8V has a low CPU load and its analog sound emulation is phenomenal. And finding and creating new sounds has never been easier with our innovative SoundMap navigation tool.

All in all the Jupiter-8V is a perfect blend of the classic and modern approaches. The sound palette is contemporary while paying tribute to a machine that inspired an entire generation of musicians.